You can use our integrated review collection to retrieve reviews from over 75 review sites with ease
---
---
1. Collecting reviews
To start collecting reviews, go to the "Data Hub" tab and click on "+ Add data". Select ''Online Reviews*'' then click ''Next'' in order to tailor your requirements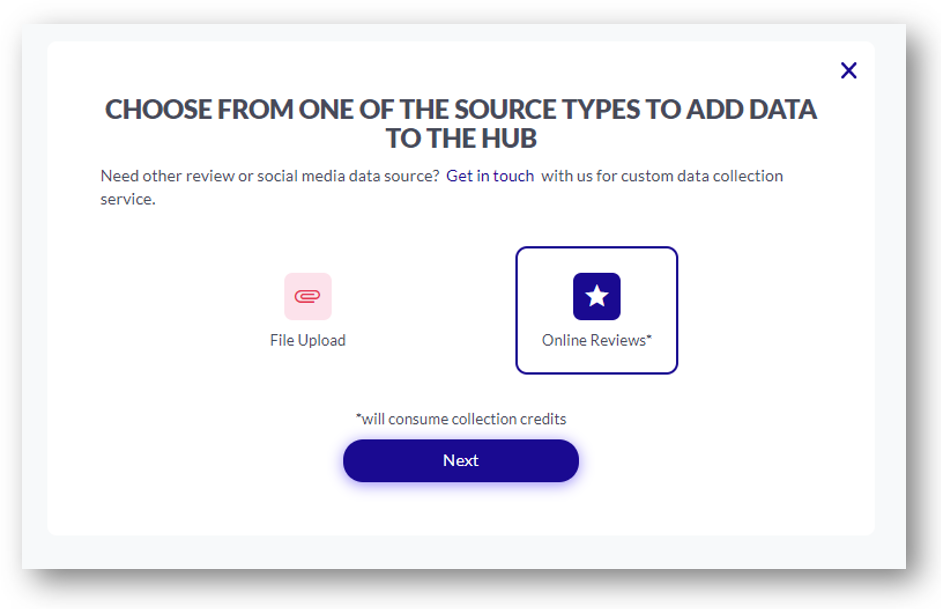 2. How to collect Online Reviews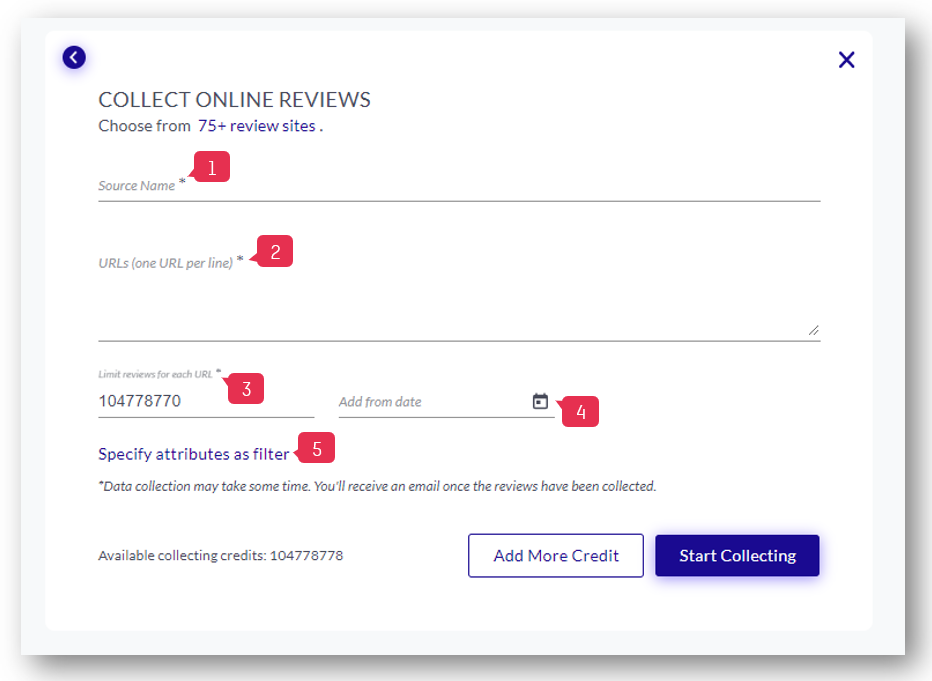 Step 1: Enter a name for the source(s)
Step 2: Enter the URL(s) of the site(s) you want to collect reviews from
(You can choose to only collect data from one URL or add more; if so: please enter one URL per line)
Click here to view what the exact URL format should look like
Step 3: Enter the maximum number of reviews you want to collect (from each URL)
Step 4 (optional): Enter a start date for the data collection
Note: "Add from date" is the date from which you would like to collect the data up to the current date

Example: the date today is the 1st January 2022:
Select the date in "Add from date": 1/1/2022 > the data will be collected from the 1st of January 2022 up to the present day
Step 5 (optional): Specify attributes as filters
(Filter attributes are additional descriptive information you can add to the collected reviews which can then be used later in the project as a filter to slice and dice your data)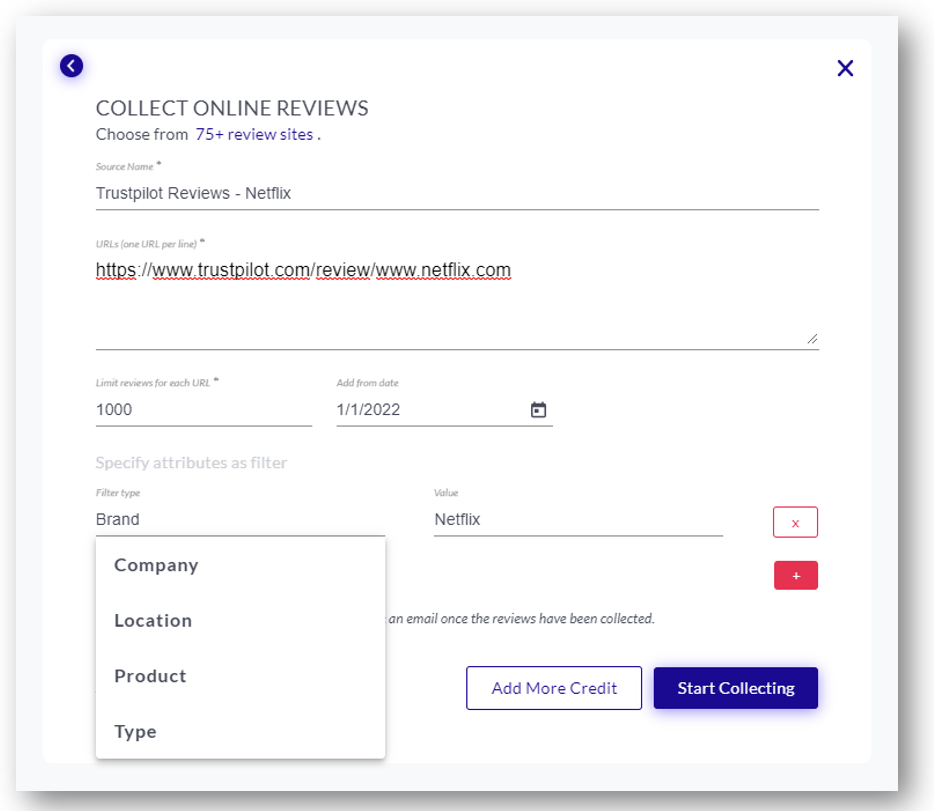 You can either type your own filter type and value or select a filter type from the drop-down menu and add the value
You can add multiple attributes but please notice this cannot be modified after the collection starts
3. Starting the collection
As soon as you have finished setting up your data collection, you will see the status of your sources as 'Collection Pending'. Once the collection is complete, you will see a preview of the data. Now you can create a project to analyse the data directly or add it to an already existing project.


Note: You can change the name of your source at any time by clicking on the editing-pen icon
4. How long does the data collection take?
While typically the data is collected within minutes, several variables can affect the time it takes to collect reviews:
1. Queue
When you add a review profile to our collection system, it goes into a queue that works on a first-come-first-served basis. This means your review collection may be added to our queue
2. Review site
Some review sites are harder to collect data from than others, so depending on the site the time could vary slightly
3. Number of reviews
Needless to say, if you have added a review profile with 10k reviews, it will take longer to collect data than a profile with 100 reviews
If you have submitted a review profile and you feel like it's stuck and that there might be an issue with the crawling feel free to contact us
5. Important to know when collecting Trustpilot reviews
Trustpilot offers reviews in different languages, so if you want to collect Trustpilot reviews from a specific language make sure to set the filter on the review page and check the URL.
Example: You only want to collect Spanish reviews: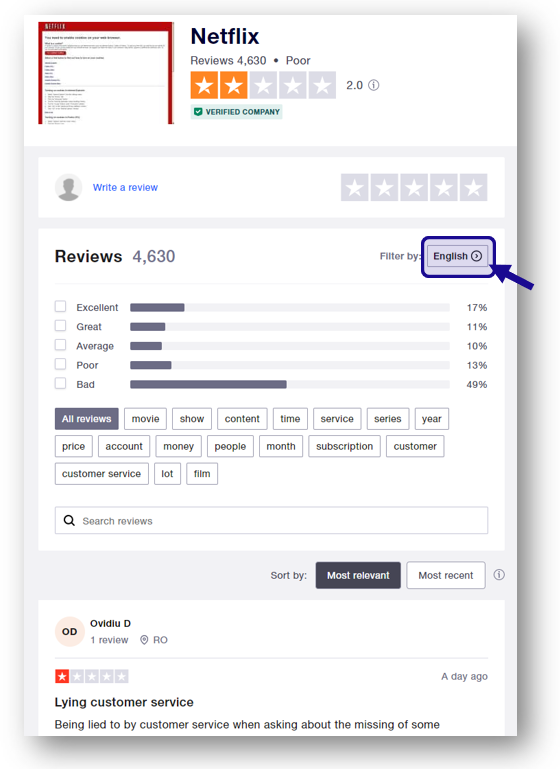 1. Select the language Spanish/Espanol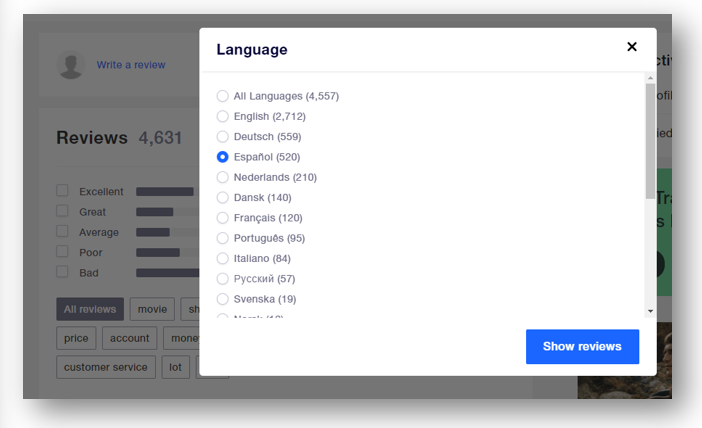 2. Make sure the language is specified in the URL:

3. Copy the URL